AKC/UKC Hunt Test Information

By Abby Eash

Hunt Tests are a great way to get out and have fun with your dog. Whether you are an all out goose hunter, duck hunter, or pheasant hunter, the training needed for these tests help keep your dog in shape year-round, creating a better retriever that will lose less birds in the field.

Often, I get the feeling that people think that hunt tests are something that only very experienced trainers can do. I am here to say that that is definetely not the case. I (Abby) started training labs when I was 11 years old after a gentleman by the name of Luke Brennan stopped by our house after seeing a sign for lab pups. He helped my brother Ryan, and I, get started training retrievers and we ran our first JH test that fall.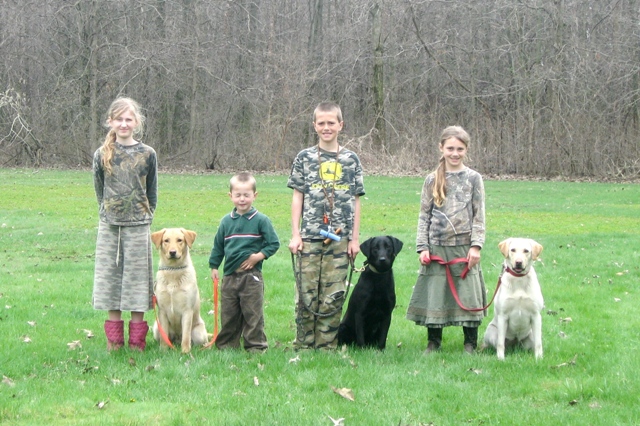 Although we did not pass either of the dogs we ran that day on September 11, 2004, we became hooked on hunt tests and this spring('11) earned our 21st title!

Did I mention they are very addicting once you get started?! In the past several years, we have went to the retrieving line over 75 times with our dogs in Michigan, Illinois, Ohio, and Indiana.

Hunt Tests are great for the family as well,

providing a clean environment for your children that also works as an excellent way to get them into God's great outdoors. My brothers and sisters(ages 13 to 5) LOVE to come outside to help train, and especially look forward to hunt tests when they get to run their dogs in the regular and puppy hunts.

Both AKC and UKC support and offer titles to be earned in Hunt tests. The rules for AKC tests tend to keep higher and more technical standards for dogs, including delivery to hand at Junior Hunter, an honor at Senior Hunter, and more techinical marks/blinds at the Master Hunter level. The color of clothing in the gallery, or that the handler wears, is not as important although they do not encourage light clothing. There are 3 levels starting with Junior Hunter(JH), Senior Hunter(SH), and Master Hunter(MH). For MH dogs who qualify to run it, the Master National is also held once a year. In UKC, the Hunting Retriever Club(HRC) tries to keep everything as close to a real hunting situation as  possible. That would include all camouflage clothing for Handlers/spectaters, the handler actually shooting a gun at the line in Seasoned and Finished(just poppers, not as loud or with the contents of a real load), and most marks landing at normal hunting distances(20-120 yards.) The overall "feel" that is received from the spectaters and handlers is very friendly - everybody is there to have fun and spend time with other dog people.

Hunt tests were founded back in the late 80s when Field Trial marks began to be a lot longer and tougher. In the past years, it had became evident that the average "Joe" would not be able to be highly successful in them, because of the intense competition in dog-against-dog and the time it took to keep the training up. Hunt tests were founded with the idea in mind of dogs competing against a set standard instead of each other's performance.

Trinity Oak Labs - Mel and Char Eash - Phone: 260-593-2768 - Email Topeka, Indiana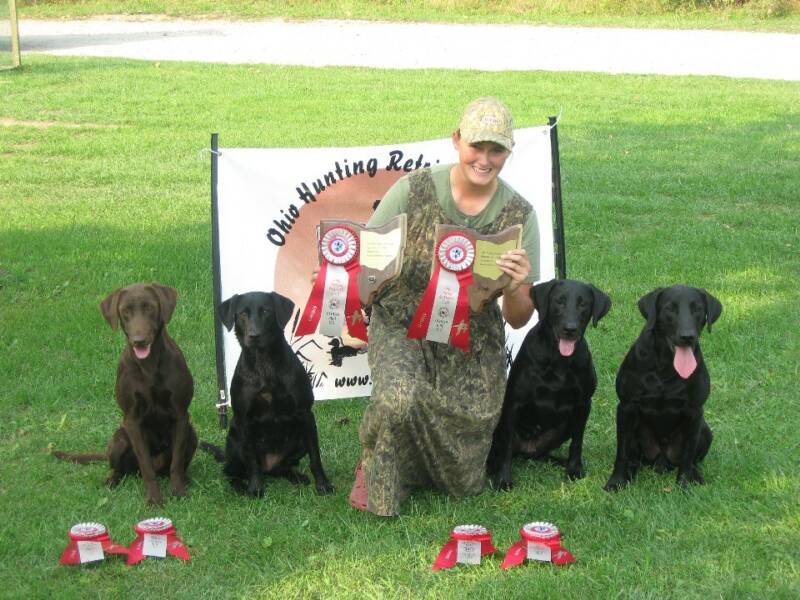 4 Finished Entries

+ 3 Seasoned Entries



7-7 Hunt Test Passes
in one weekend - Fall 2008

In regular Hunts, Started Hunting Retriever(SHR) is the very first level of testing. Second, is Seasoned Hunting Retriever(HR) and Finished Hunting Retriever Champion(HRCH) is the top level. As side tests, Upland Hunter(UH) tests are mostly held in late winter months, and Grand (GRHRCH) tests are held twice a year around the country. Real birds are used throughout both AKC and UKC's Hunt venues.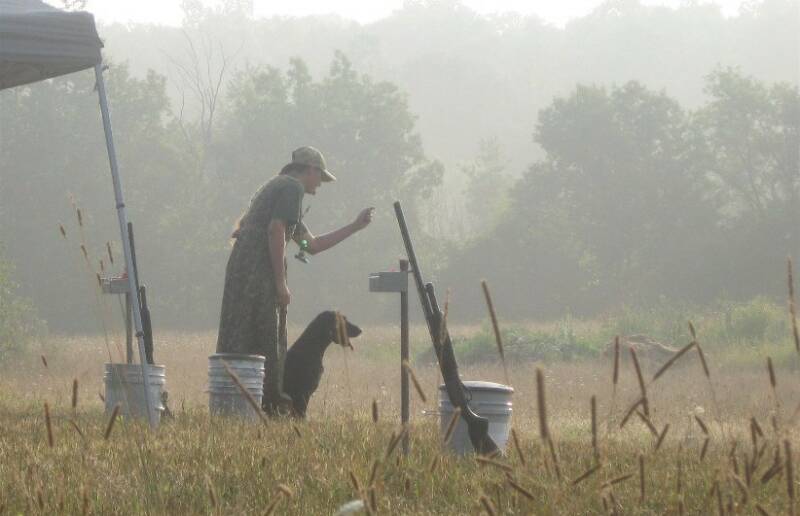 Please vote for our website and kennel by clicking on the above banner. Thanks!